Welcome to Louth Nature Trust
Biodiversity is a widely used word these days. On the face of it, it means diverse life, or maybe just lots of different species together in one place. But it is really a reflection of the genetic diversity of species and their interaction with one another and with the environment. The highest biodiversity is achieved in places where species have been living together for a long time. This is because over time species evolve together. This massively increases the biological productivity of systems because these close interactions that develop over millennia are extremely efficient. It also drives speciation processes as species become more and more specialised, increasing species richness and abundance in these systems, and is the reason why native species are so important
Globally the most diverse systems are in tropical rain forests, or coral reefs.
In county Louth the most biodiverse systems are to be found in Louth's several estuaries: the Boyne, the Dee and Glyde, the Fane and the Castletown and Flurry. Also notable for biodiversity is Carlingford Lough, and in particular its tidal rapids and shore in places. Ardee bog, despite its past exploitation for turf, still supports significant biodiversity. Over the years I have searched of ancient Oakland habitats in Louth but so far only a few patches in Ravensdale and perhaps north of Omeath, and maybe at Dunaney Point.
The whole of the Louth shore represents good biodiversity areas, some better than others.
Away from the coast, the other main source of biodiversity are in its wetlands, most of which have been surveyed. Notable are the rivers, the three small loughs, Drumcah, Toprass and Cortial Loughs. Several wetland areas in the Cooley mountains are high biodiversity, especially around Corakitt, the White bog and a few other patches. Though not huge biodiversity, the Cooley mountains and Clogherhead represent relatively unspoilt habitats supporting specialist species. Similarly several dune systems represent great examples of succession ecology, especially between the Baltray and Clogherhead. There are also several other small bogs, fens, marshes and ponds scattered around the county which are of good local interest, and a few of national or international importance.
But biodiversity is under constant threat, mostly from human impacts, from development, farming, industrial activity, transport and all the rest. Global warming has increased the pressure, contributing further to the habitat loss which is the main driver of biodiversity loss.
The Louth Nature Trust supports a halt to biodiversity loss through the restoration a protection of natural habitats.
The Louth Nature Trust operations are largely funded by Local Biodiversity Action Plan fund, operated by the National Parks and Wildlife Service of the Department of Housing, Local Government and Heritage, through the Heritage Office of Louth County Council.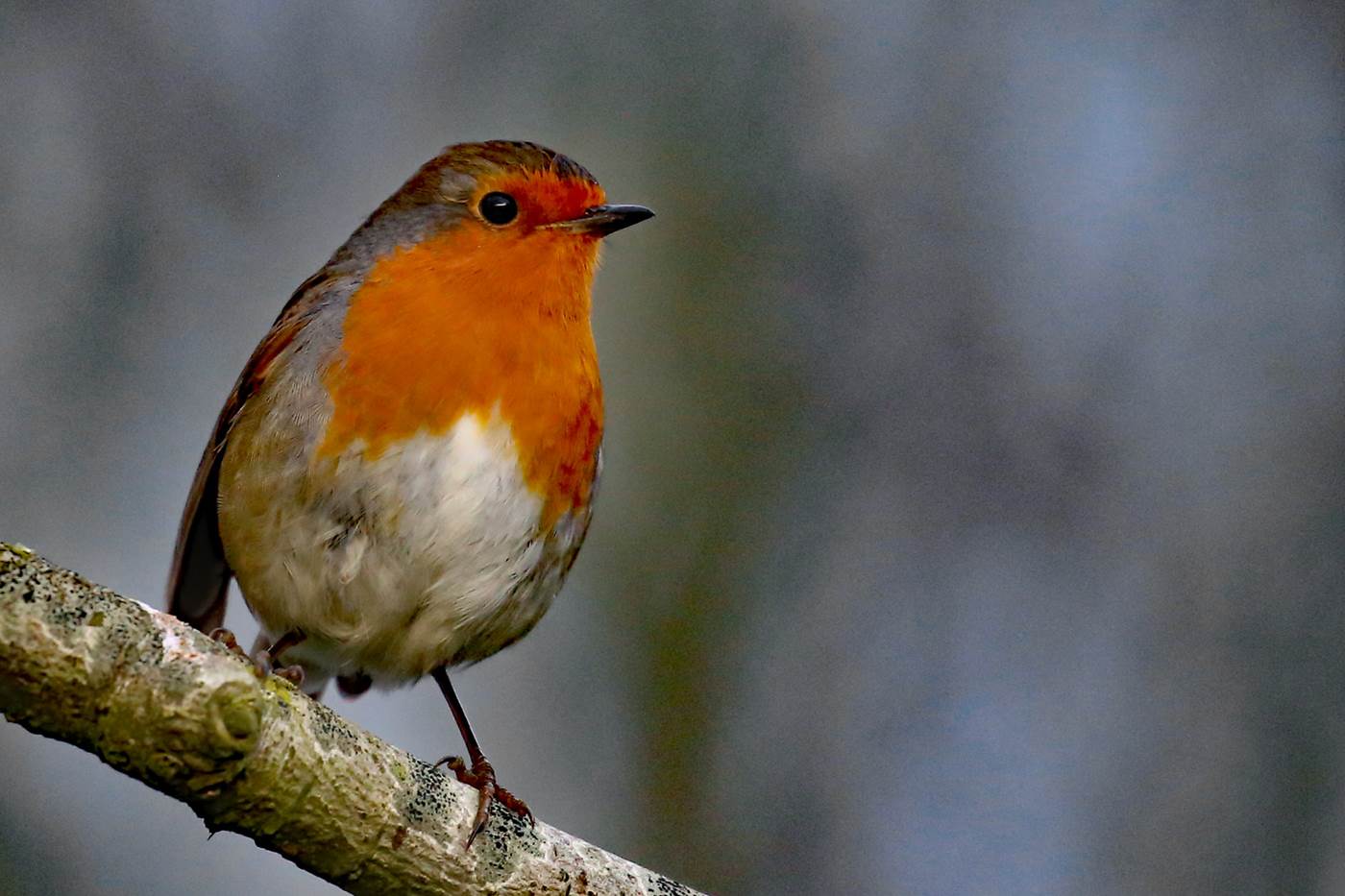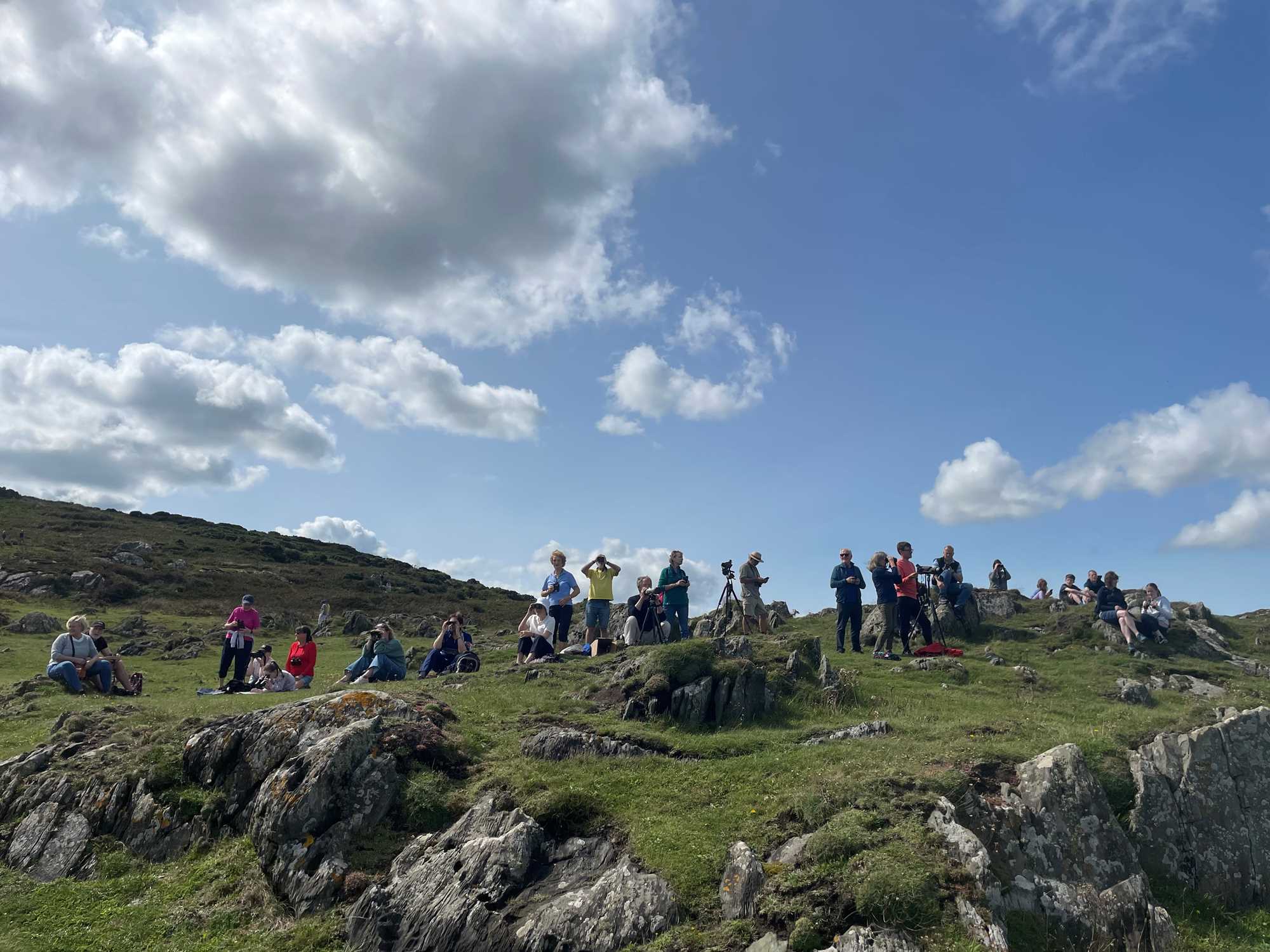 23/08/2023
Seawatching Clogherhead
Many thanks to the folks who showed up for the deferred seawatching event at Clogherhead last Sunday. On the day we had a pair of harbour porpoises who put up a bit of a show. Quiet otherwise except for a few guillemots, terns and a lone common scoter.
18/06/2023
Seagulls in Drogheda
A public meeting has been organised to discuss the problem of seagulls in Drogheda. Former councilor Frank Godfrey, who is organising the meeting, said: "The seagull problem is going from bad to worse as the year goes on. This summer for some unknown reason there seems to be thousands of them. I've been talking to a lot of traders and this is a problem that seems to be getting worse as the years go on, We all know they are noisy, but they are picking rubbish out of bins and making the streets look filthy, not to mention the bird droppings all over the streets and our historical buildings.
Mr Godfrey went on to say: "I'm not saying we harm them in any way, but I know some businesses have installed wild birds calls to chase them off, so maybe we need more of that in the town centre."
The two species concerned are Herring Gulls and to a lesser extent Lesser Black Backed Gulls. In summer particularly in June/July, Herring Gulls come into Drogheda to breed on the roofs of high building along the river and elsewhere (a favorite place is the roof of the Lourdes Hospital). This is because the high buildings are reminiscent of their normal habitat, which is sea cliffs. Gulls are also attracted to urban areas near the sea because of the huge feeding opportunities. Herring Gulls feed on fish in their natural habitat, however the species on which they feed have been largely fished out through over-fishing, making herring gulls red-listed in Ireland; so they need to find food elsewhere. They are also notable scavengers doing a great service in removing dead fish/mammals and the like from the shore. This means that they can survive very well on human rubbish, particularly discarded fast food (the location of McDonalds is very handy).
During breeding in June/July, Herring Gulls may become quite aggressive, defending nests and young but it is largely intimidation; gulls cannot really harm an adult, their beak cannot break skin etc. One way to deal with them is to intimidate them back by staring : https://www.allaboutbirds.org/news/when-gulls-attack-just-stare-back . Gulls are fascinating to study and are very intelligent: https://www.youtube.com/watch?v=Kqy9hxhUxK0. Observing gulls can be a great way to introduce people to wildlife in an urban. A study by NPWS suggested up to 360 herring gull nests and 24 lesser black backed gull nests in Drogheda: https://www.npws.ie/sites/default/files/publications/pdf/national_urban_gull_survey_project%20report.pdf
The obvious way to deal with the "problem" is to reduce the amount of rubbish available to them. Despite all their intelligence they cannot open properly closed wheelie bins. Burgers and chips should be put in bins with closure systems.
The meeting is at the d Hotel on Monday June 26.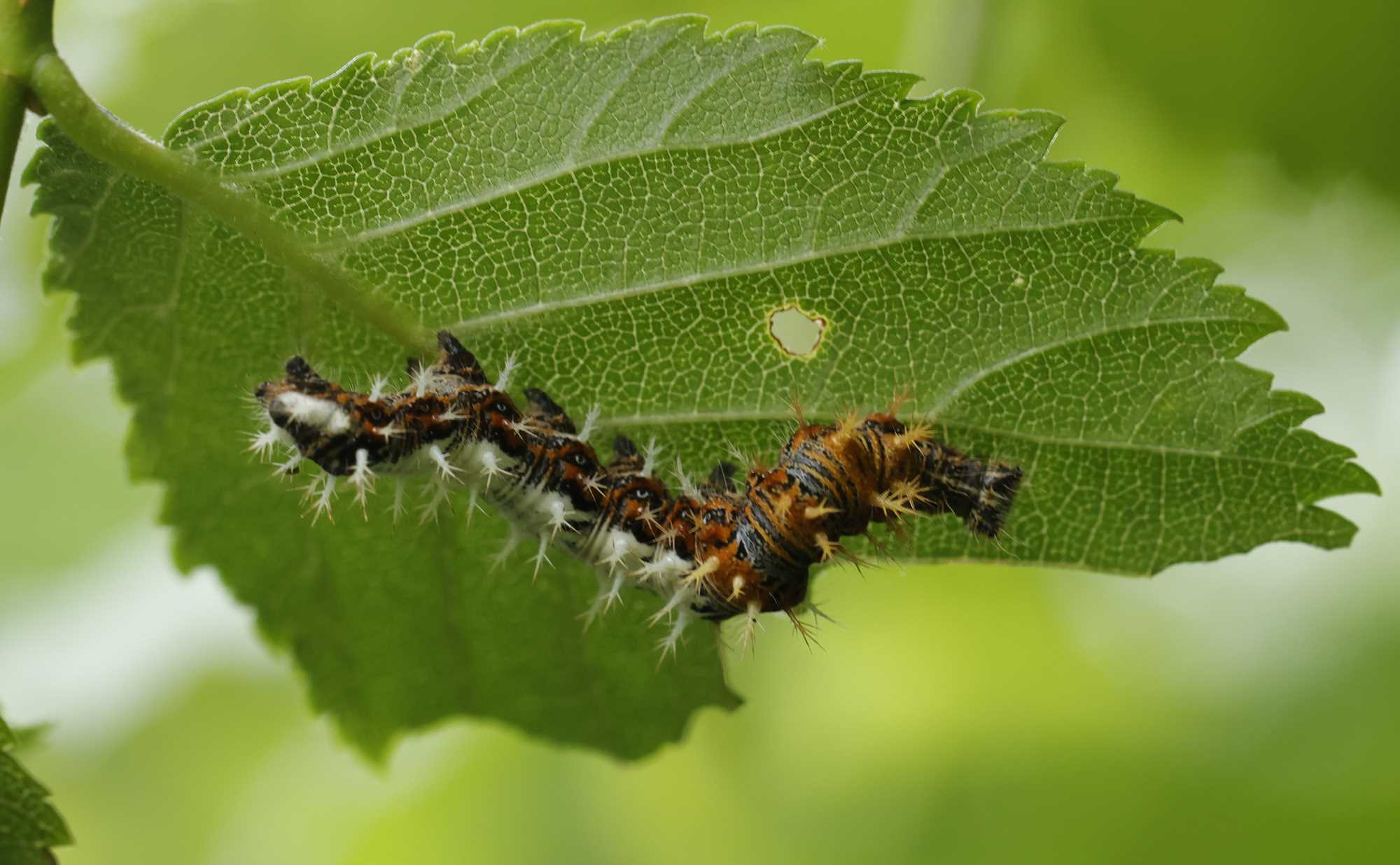 13/06/2023
Comma caterpillar found in Drogheda
Billy Clarke found a comma caterpillar in his back garden in Drogheda feeding on elm leaves. Commas are a recent arrival to Ireland largely driven by climate change. this is one of the most northerly confirmed breeding of the species in Ireland.
12/06/2023
Mournes, Slieve Gullion, Strangford Lough awarded full UNESCO global geopark status
Northern Ireland's second ever UNESCO Geopark has been officially unveiled as Mourne Gullion Strangford covering three areas of outstanding natural beauty within Newry Mourne and District Council – Mourne, Ring of Gullion and Strangford Lough and Lecale. This was approved at a meeting of the UNESCO Executive Board in Paris last month. With a rich geological history across 400 million years, the new park has been described as 'A Tale of Two Oceans,' with the dramatic landscape formed by the appearance and disappearance of oceans, colliding continents and 'tumultuous volcanic events'. A geopark is defined as a single unified geographical area that is managed holistically, in this case stretching from the waters of Strangford across the Mourne Mountains to the Ring of Gullion. https://www.irishnews.com/news/northernirelandnews/2023/05/25/news/mourne_gullion_strangford_awarded_full_unesco_global_geopark_status-3303645/
The mystery in this story is why the Cooley mountains are not included in this Geopark, since the Cooleys are an integral part of this geological system!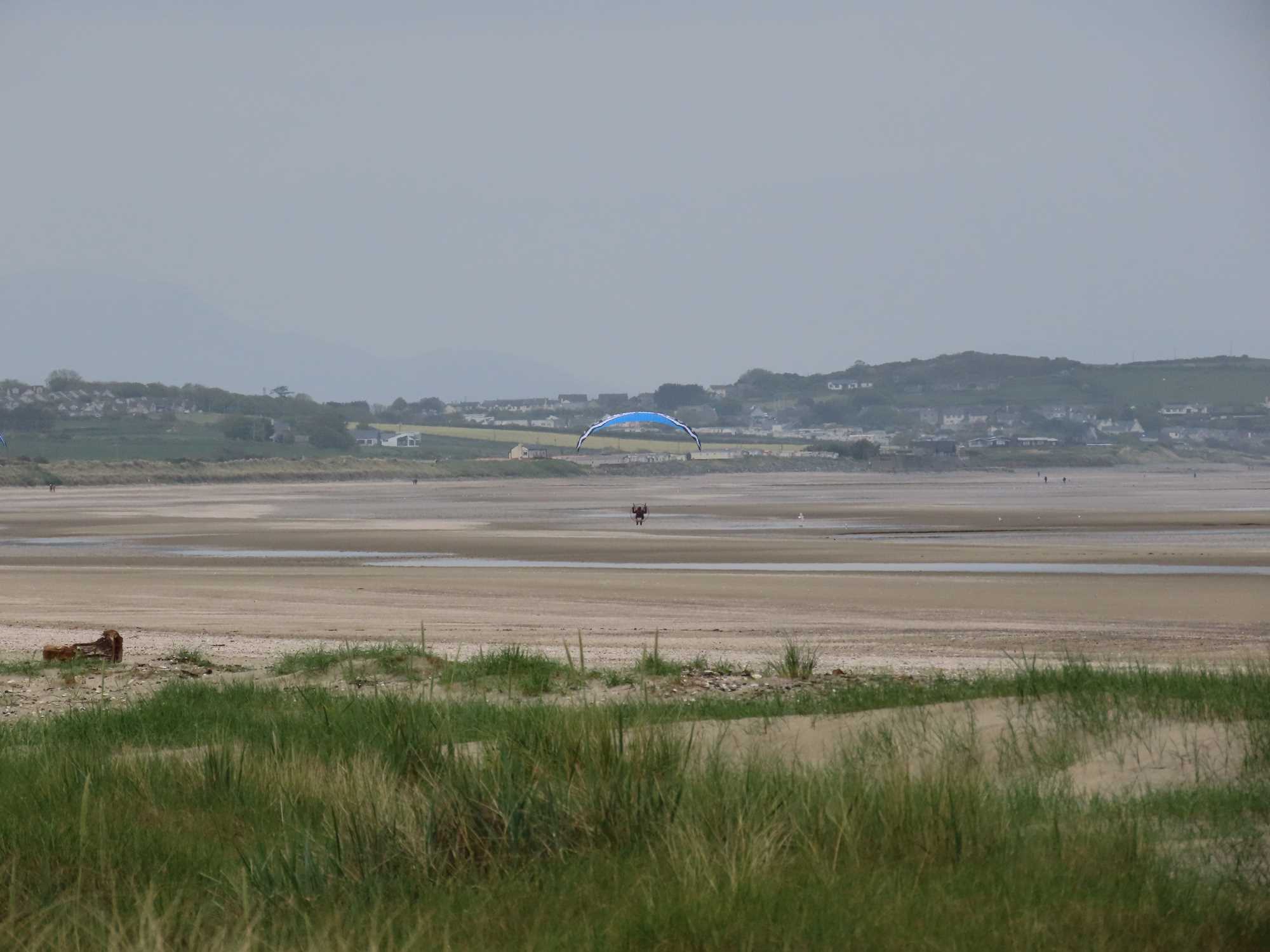 25/05/2023
Paramotoring
We have has several incidents of para motoring over the little tern enclosure. Paragliders may not be aware of the impact this may have on the ground nesting birds, who may be incubating eggs or brooding young. This may impact breeding success and if regular may cause birds to abandon a nest..
We would ask them to please avoid the beach area just north of the Boyne over the summer months, noting that it is a criminal offence under the Wildlife Act to disturb birds in a nesting place.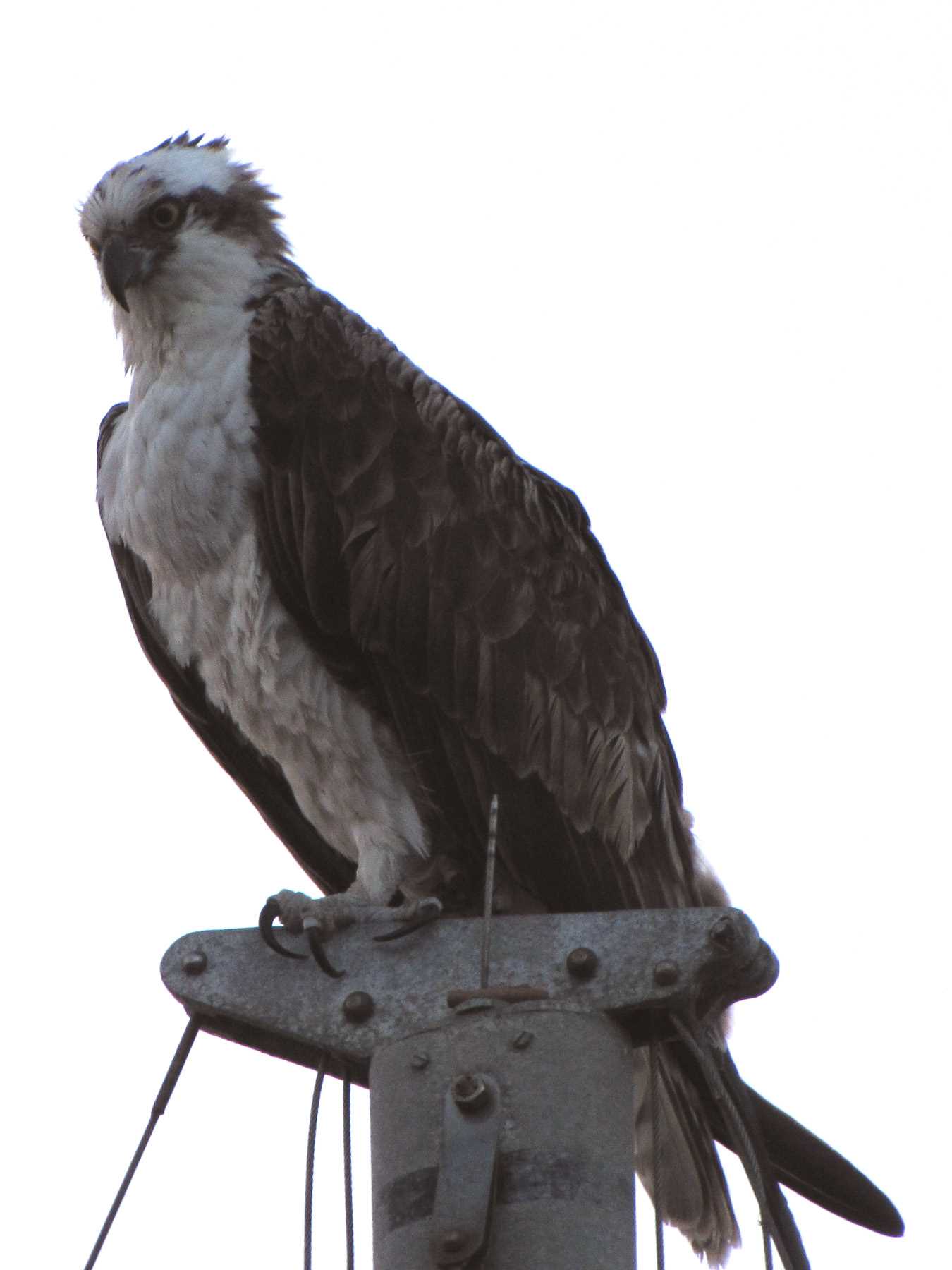 24/05/2023
Return of the Osprey
The NPWS is working with the Golden Eagle Trust to reintroduce the osprey (Iascaire Coirneach - is the Irish name (meaning 'tonsured fisherman') to Irish waterways and lakes this year. Osprey are a magnificent fish-eating bird of prey that became extinct in Ireland many years ago. The NPWS has been researching and preparing for the potential reintroduction of these birds for a number of years and now expects to reach a significant milestone with the arrival of the first 12 Osprey chicks in July. The reintroduction programme aims to establish a viable, free-ranging Osprey population that eventually breeds in Ireland. Over the next five years 20 to 30 chicks from Norway will be reintroduced. https://www.gov.ie/en/press-release/55804-return-flight-for-the-osprey-as-national-parks-and-wildlife-service-prepares-to-reintroduce-bird-to-ireland-this-summer/